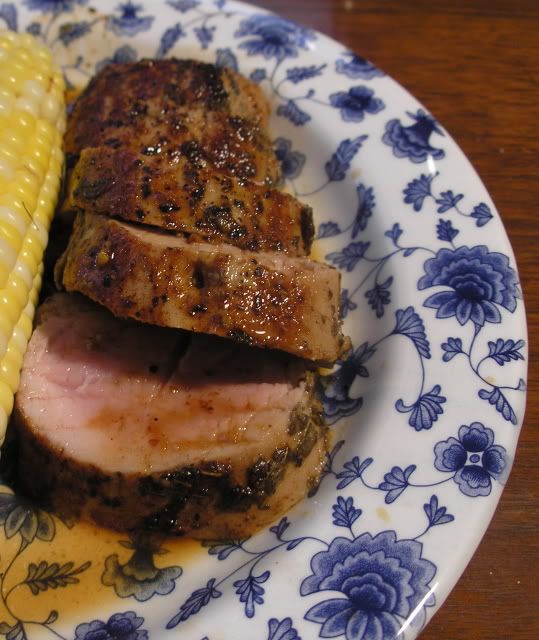 This weekend I had the best pork dinner I've ever made. Got the recipe from epicurious.com for pork tenderloin with maple glaze. It was sweet, tangy, with a hint of herb. So good! It's one of the few recipes I've ever made where I actually used all the ingredients listed :-P

2 12- to 14-ounce pork tenderloins We split an 18oz in half
2 teaspoons crumbled dried sage leaves
1 tablespoon butter
6 tablespoons pure maple syrup
6 tablespoons apple cider vinegar This may have been a teensy bit excessive
2 teaspoons Dijon mustard


Rub pork tenderloins all over with crumbled dried sage; sprinkle with salt and pepper. Melt butter in large nonstick skillet we used our one Calphalon! pan from FMIL over medium-high heat until hot and bubbling. Add pork tenderloins and cook until brown on all sides, turning occasionally, about 6 minutes. Reduce heat to medium-low, cover and cook until thermometer inserted into pork registers 150°F, um, I don't know how my thermometer was supposed to be there with the pan covered? turning occasionally, about 10 minutes longer. Mine was more than 10 minutes, and I didn't have as much meat as they suggest--of course, I didn't keep it covered, either Transfer pork to platter; cover to keep warm.
Whisk 5 tablespoons maple syrup, 4 tablespoons apple cider vinegar and Dijon mustard in small bowl to blend. Set aside. I did this step while waiting for the pork to cook Add remaining 2 tablespoons vinegar to skillet and bring to boil, scraping up any browned bits. Reduce heat to medium-low. Return pork and any accumulated juices to skillet; add maple syrup mixture and turn pork in glaze just until coated, about 2 minutes. Remove from heat. Transfer pork to cutting board. Cut pork into 1/2-inch-thick slices. Stir remaining 1 tablespoon maple syrup into glaze. Season glaze to taste with salt and pepper.I then brought it to a boil while my fiance was cutting the meat, in order to reduce it a touch

Arrange pork slices on plates. Spoon glaze over pork and serve.

Makes 6 servings.
Bon Appétit
October 2000

So, yes, this was delicious. We served a simple salad (with sage in the dressing), corn (with sage-pepper butter), and a big Sourdough roll from our local Whole Foods. Absolutely delicious, and the leftover sandwich I made the next day with the butter on the roll and the left over glaze drizzled on top was to die for!