I was bored tonight and wanted something sweet. After Jackie's post about in-season produce I remembered that I had strawberries to eat, and I thought of making a strawberry sauce for ice cream or frozen waffles. Then I got the idea that balsamic vinegar would be good with it too, so I looked for a recipe for balsamic strawberries and found a simple one on www.epicurious.com.

3 1/2 cups sliced hulled strawberries (about 16 ounces) since it's just me tonight, I made about half this. I cut off the tops and fed them to my hamster
1/4 cup sugar 2 Tablespoons-ish
1 1/2 tablespoons balsamic vinegar 1-ish Tablespoon

Toss all ingredients in medium bowl. Let stand at room temperature until juices form, at least 1 hour and up to 3 hours. I did a little over an hour
Makes about 3 cups. one and half cups

This was delicious! Sweet and tangy and awesome. I tried to take some decent pictures. I served it over a frozen waffle and some vanilla ice cream.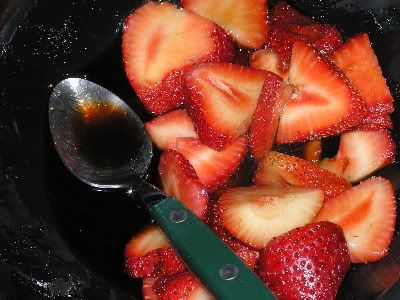 Combining in the bowl.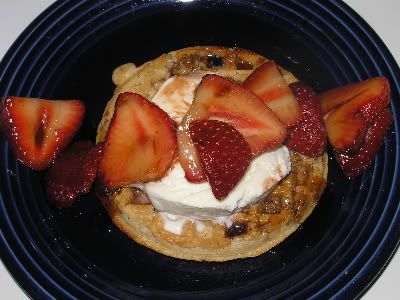 Plated.